Get ready for the real deal mini shredders! For the first time ever the Mini Proto is just that…an exact

(mini) replica of the Men's and Women's Proto Synthesis. You get the same shape, same profile, and the same powerful performance in a mini version. Now you're riding with the big dogs!
CAMBER PROFILE
Shock Wave Rocker Camber - Shock Wave Rocker Camber features extended camber zones underfoot towards the tip and tail for explosive pop and solid stability, with smaller rocker areas that retain quick turn initiation and enhance floatation. 
Extended Transition Area – Never Summer adds a small flat section in the snowboard profile that improves both turn initiation and powder flotation.
SHAPE
Vario Power Grip Sidecut – Vario Power Grip Sidecut utilizes multiple radiuses creating extra contact points to enhance edge hold. A flat section in the rocker area provides a broad contact point when flexed, however when unbent allows the board to track straight and not catch. Flanking this straight section are two shallow radii which provide the second and third contact points. Towards the ends of the sidecut are deep radius which renders quick turn initiation and the final contact points.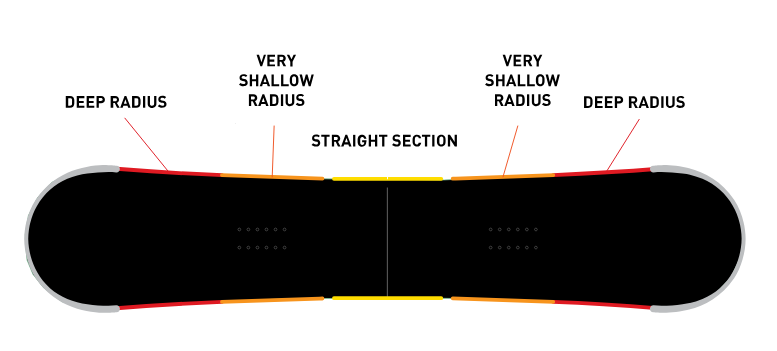 Low Profile Tip/Tail – A low profile in the nose and tail of the snowboard maximizes material contact with the snow for more powerful ollie/nollie pop and stability to your landings. Low Profile Tip/Tail also reduces the plowing effect in the nose for better glide to the next feature and superior float when it's deep.
LAMINATES
Carbon Max Laminate Technology – More carbon equals more power and performance. The Carbon Max Laminate Technology combines an advanced top and bottom carbon matrix to maximize response and strength where it's needed most. The result is a lightweight yet powerful configuration that provides torsional rigidity and energy transfer without sacrificing the control a rider needs.
Bi-Lite Fiberglass – Bi-Lite Fiberglass combines many of the strength characteristics of Never Summer's STS fiberglass with an ultralight glass fiber matrix. This delivers incredible freestyle and freeride performance without sacrificing durability.
Perforated Rocker Pad – Perforated to reduce weight, these thin elastomeric Perforated Rocker Pads are strategically located in the mid-section of the board. This absorbs the vibration between the feet and provides a buffer in the rocker area which is in continuous contact with the snow.
RDS 2 Damping System – This lightweight system uses three narrower laminated dampening layers that provide the perfect combination of vibration, absorption, and stability. RDS 2 is the perfect balance of freeride stability and freestyle liveliness.
Elastomeric Underfoot Stabilizers – Elastomeric Underfoot Stabilizers directly below the mounting area provide optimum vibration absorption and increase high-speed stability while reducing foot fatigue.