Sold Out $ 39.99
The Footprint Kingfoam Orthotics insoles drastically reduce sore ankles and leg fatigue to help you stay on your feet longer. Footprint Kingfoam Orthotics insoles provide superior cushioning and primo protection by turning the energy from impacts into heat. Recommended by doctors and used by professional skaters like Brandon Biebel and Aaron "Jaws" Homoki.
Kingfoam Orthotics insoles offer built-in arch support and a formed heel cup for added protection. These insoles are a little thicker and tend to work best in vulcanized shoes, but can be worn in cupsoles.
Key Features
Arch Support
Kingfoam
Kingfoam Insole Cross-Section
Fully Stitched Shell
Kingfoam Heel Pads
Determining Your Foot Type
KEY FEATURES
Arch Support - These orthotics help prevent over-pronation, which assists the body in proper alignment. This relieves daily fatigue, sore joints and allows longer performance.
Kingfoam - All Footprint soles are covered from heel to toe with Kingfoam, a military grade urethane that converts the force of impacts into heat. Absorbs 90% of impact energy and protects against bruises and joint damage.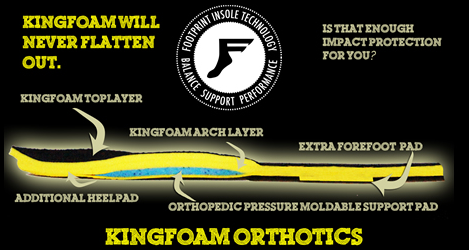 Kingfoam Insole Cross-Section
Fully Stitched Shell - Reinforced shell is blowout-proof thanks to full exterior stitching.
Kingfoam Heel Pads - These 1mm Kingfoam adhesive heel pads offer more protection if you need it. Just peel and stick.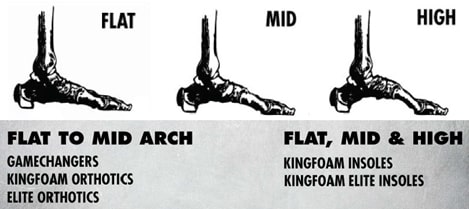 Determining Your Foot Type